INTRODUCTION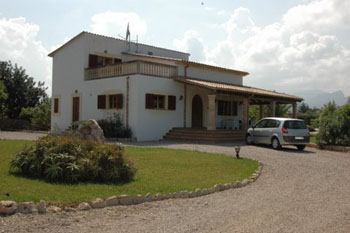 Having said we have done Mallorca to death over the last 12-15 years is probably an understatement, but once again we found ourselves back on the island we cut our overseas birding teeth on. I have highlighted in previous reports (2003 & 2005) the relentless creep of developments that is still occurring on the island, so other than to say it is still happening at a frightening pace I will say no more.
It is easy for us to look back at great habitats that no longer exist and bemoan the lack of bird species once seen there, but I do feel this needs to be put into context. We met several birders during this trip, who, like us, are using the island to cut their own overseas birding teeth on. Their enthusiasm for the birds they were seeing was no less diminished than ours was all those years ago, a case of rose tinted specs perhaps, who knows?
All the species that were on the island 15 years ago are still there, although arguably not in the numbers they once were.
Again this may also be a touch of rose tinted specs, but it would be accurate to say that a reduction in numbers of some birds is evident. I suspect these are the species that utilised the small scrubby areas which are the first to be developed; larks, pipits and buntings seem particularly affected.
GETTING THERE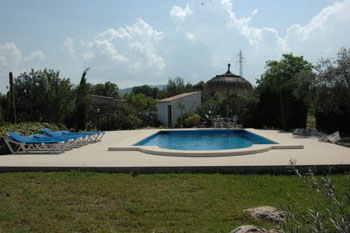 Being creatures of habit we once again went to Villa Select for our holiday package. Unlike previous years we were allowed to book both our air travel and hire car independently, rather than part of the package as previously. This meant we could shop around for bargains allowing us to spend the same amount of money on the holiday that we had 10 years previously.
If your preference is for first class self catering accommodation we have no hesitation in recommending Villa Select. Villa Select can be contacted by email or phone on 01789 764909.
Our chosen villa this year was Les Oliveras, a 4 star villa set in 4 acres of land of which 20% was laid out as a formal garden with sun terrace, large pool and many cacti and citrus trees. The rest was laid out as citrus orchards and almond and olive groves. The ground between the trees in the orchards and groves was covered in wild flowers and tall weeds, an ideal habitat for Stone Curlew as we were to find out. Stone Curlews calling through the night and glimpses of them caught in the car's headlights as we turned into the drive after returning from our evening meals became the norm.
For those visiting Mallorca for the first time I would strongly recommend Graham Hearl & Jon King's A Birdwatching Guide to Mallorca. The Gosney book is now well out of date and even the update downloads available on the internet are several years old and many of the birding sites long gone.
BIRDING SITES
I have listed all the sites we visited during this trip and the birds encountered. Because of the very wet weather prior to our visit and the fact that I had to seek medical attention for a very sore back during the trip, our birding was restricted to the north of the island and with the exception of Cuber Reservoir, all the sites were within 20 minutes drive of our villa.
I was informed that Eddie's track at the salt pans in the South of the island was almost impassable and with the exception of good numbers of Avocets there was also little of ornithological interest.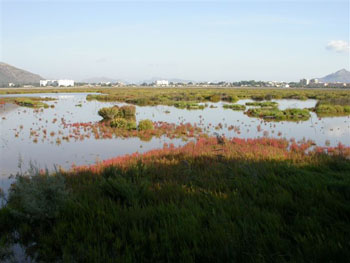 ALBUFERA MARSH
This is still the premiere birding spot in the north of the island. Albufera is a Parc National consisting in the main of vast reed beds interspersed with areas of open water whose depths are controlled, making them attractive to waders, herons and ducks. With 5 hides and 3 elevated platforms birding is very much based on the English style. The reserve is open 7 days a week and is free to enter. Only vehicles with disabled occupants are allowed on the reserve, other cars can be parked on the small car park adjacent to the entrance. Pedestrian access is allowed from first light although the gates don't officially open until 08-30, access can be made via a small opening in the wall adjacent to the main gate.
Species seen during this visit:- Cormorant, Great-crested & Little Grebe, Black-winged Stilt, Marsh Harrier, Cattle, Little, & Great White Egret, Purple, Squacco, Night & Grey Heron, Sacred Ibis, Red, Green & Spotted Redshank, Gadwall, Garganey, Teal, Mallard, Red-crested & Common Pochard, Tufted Duck, Osprey, Purple Gallinule, Moorhen, Red-knobbed & Common Coot, Golden, Ringed, Kentish & Little Ringed Plover, Snipe, Common, Wood & Curlew Sandpiper, Cetti's, Moustached & Great Reed Warbler, Chiffchaff, Willow Warbler, Great Tit, Black-headed & Yellow-legged Gull, Common & White-winged Black Tern and a Red-throated Pipit for which I had to supply a rarities report.
BOQUER VALLEY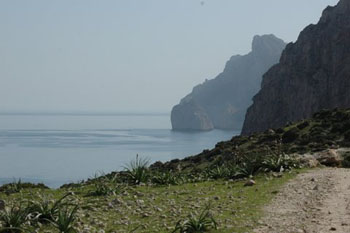 All the small fields, orchards and groves at the bottom of the valley have now been swallowed up by urban sprawl, leaving only the land owned by the farmer with any worthwhile ornithological value. All the main species can still be found but in greatly reduced numbers, commensurate with the reduced habitat.
Species seen during this visit:- Redstart, Spotted & Pied Flycatcher, Wryneck, Hoopoe, Wren, Whinchat, Stonechat, Northern Wheatear, Blackbird, House Sparrow, Woodchat Shrike, Wood, Balearic, Sardinian & Spectacled Warbler, Chiffchaff, Willow Warbler, Blackcap, Great & Blue Tit, Serin, Goldfinch, Greenfinch, Blue-rock Thrush, Cirl Bunting, Crag Martin, European Bee-eater, Booted Eagle, Peregrine, Kestrel, Eleonora's Falcon, Honey Buzzard, Raven, Rock Dove and Common Swift.
DEPURADORA (Water Treatment Works)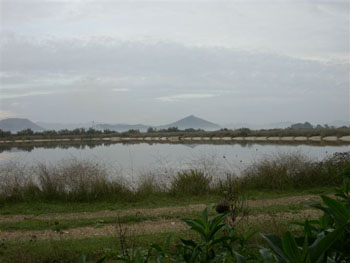 This was a site I was eagerly looking forward to visiting as the old hide had gone and had been replaced with an elevated viewing platform. Poor maintenance of the hedge around the old hide had greatly reduced visibility, so the replacing of it with an elevated platform would alleviate that problem as well as giving far better views over the more distant pans.
75% out of 100% for effort, but how much better the platform would have been had it incorporated some form of screen. As it is now, as we found out to our cost, the early birders push all the birds on the 2 nearest pans off, some will settle in more distant pans but many leave the site altogether. Not good if you have a rarity near the platform! The area to the rear of the platform was also a disappointment, which I attribute to the new platform; again this would cause disturbance to the waders that used to frequent this part of the reserve. However this did not appear to affect the breeding Stone Curlew which could be detected, especially during late afternoon in this area. With the severe pruning of the hedge on the approach track, the half dozen resident Hoopoe have disappeared.
Species seen during this visit:- Red-crested Pochard, Gadwall, Mallard, Shoveler, Marbled Duck, Shelduck, Great-crested Grebe, Black-winged Stilt, Stone Curlew, Wood, Curlew and Common Sandpiper, Ruff, Greenshank, L.R. Plover, Yellow Wagtail, Whiskered Tern, Swallow, Sand & House Martin, Swift, Black-headed and Yellow-legged Gull, Cetti's Warbler, Linnet, Serin, Greenfinch, Goldfinch and Corn Bunting.
ALBUFERETA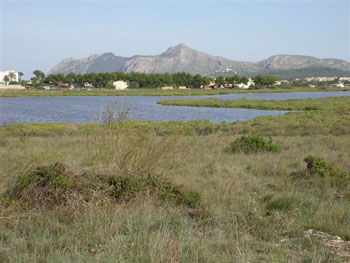 I have seen several notice boards which have appeared proclaiming the existence of the Albufereta as a Parc Natural. Let's hope this will safeguard the area from further development, although we noted several developments taking place extremely close to the perimeter of the site during our visit. Several English speaking horse riders were also encountered riding through the centre of the reserve disturbing the birds during one of our visits, suggesting little supervision of the site is taking place.
Again, the water table was high so little of birding interest except for the odd Mallard and Little Egret on the East Lake. However the large area of swamp and reeds to the West was more productive with good views of Great White Egret, Purple Heron and a fishing Osprey.
Species seen during this visit:- Cormorant, Great-crested Grebe, Little Egret, Purple Heron, Grey Heron, Osprey, Marsh Harrier, Great White Egret, Purple Swamphen, Red-crested Pochard, Mallard, Gadwall, Black-winged Stilt, Spotted Redshank, Greenshank, Zitting Cisticola, Northern Wheatear, Swallow, House Martin, Swift, Yellow Wagtail and Corn Bunting.
CUBER RESERVOIR
This was a real let down with none of the usual suspects seen. Our first attempt to reach the site was stopped just a couple of kilometres short of our destination due to a landslip. 27 kilometres of hairpin bends to be told just a couple of kilometres from your destination that the road was closed! A simple sign stating the road was closed past Lluc monastery would have saved a tortuous drive with a very sore back.
Species seen during this visit:- Black Vulture, Redstart, Cirl Bunting, Greenfinch, Crag Martin and Yellow-legged Herring Gull.
SON SERRA DE MARINA
This is a site that is now firmly on our itinerary when visiting the island. I have to be honest and say we haven't really seen anything outstanding during our visits but it's one of those sites that looks like it should produce. However it gave us 2 trip ticks during our visit which were Oystercatcher and Thekla Lark.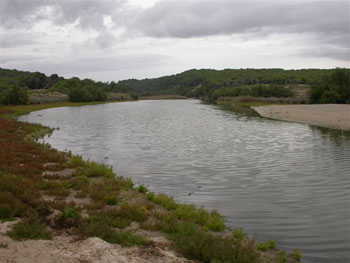 Frances Gatens had been there a couple of days previous and had a flock of about 30 Common Sandpipers, not a sight you see every day.
Species seen during this visit:- Oystercatcher, Common Sandpiper, Grey Heron, Mallard, Little Grebe, Swift, Swallow, Thekla Lark, Woodchat Shrike and Hoopoe.
SON MARC VALLEY
This is a particular favourite of ours, introduced to us some years ago by Pam & Arthur from Cow Bridge in Wales. It's not a site you will find in many site guides to the island. Taking the road to Cuber/Soller from Pollensa, you turn left into the valley at the 5.3 Kilometre mark. This is a dead end for vehicles although if you are made of sterner stuff than us you can follow the track through the pine forest to Lluc monastery, although most people prefer to start at Lluc and walk downhill.
Species seen during this trip:- Booted Eagle, Raven, Kestrel, Woodchat Shrike, Redstart, Cirl Bunting, Blackcap, Chiffchaff, Willow Warbler, Stonechat, Whinchat, Spotted & Pied Flycatcher, Firecrest, Goldfinch, Chaffinch, Greenfinch, Blackbird, House Sparrow and Glossy Starling.
BIRD LIST AND STATUS
Little Grebe Tachybaptus ruficollis Small numbers of birds at the Albufera & San Serra de Marina.
Great-crested Grebe Podiceps cristatus 2 birds on the Gran Canal Albufera and a couple at the Depuradora.
Cormorant Phalacrocorax carbo Birds seen as usual on the old pylons on the entrance road to the Albufera.
Shag Phalacrocorax aristotelis Odd birds seen only at the breakwaters at Puerto Pollensa.
Black-crowned Night Heron Nycticorax nycticorax Smaller numbers than previously with the top count of 11 birds observed in the bushes on the far bank of the Gran Canal at the new egret colony, Albufera.
Squacco Heron Ardeola ralloides 2 birds seen from Bishops (1) hide, Albufera and 2 from the raised platform on the pine track, Albufera.
Cattle Egret Bubulcus ibis Probably still the most common of the egrets on the Island, several hundred seen in the new colony on the entrance road, Albufera.
Little Egret Egretta garzetta Many birds encountered throughout the island, 50> at the new mixed colony at the Albufera.
Great White Egret Egretta alba I replied to a report refuting a suggestion that G.W. Egrets don't arrive on the island until September. 1 was present from Bishops (1) and 2 at the Albufereta during this trip. It's my belief that if they're not already breeding on the island, they soon will be.
Grey Heron Ardea cinerea Birds are common at all suitable habitats.
Purple Heron Ardea purpurea Several birds seen during the trip, mainly fly pasts but 1 bird showing very well at Albufereta.
Sacred Ibis Threskiornis aethiopicus The staff at the Albufera say that the status of this bird is now "feral", as a small population has established itself in the southern Med.
Shelduck Tadorna tadorna Up to 8 birds seen regularly at the Depuradora.
Gadwall Anas strepera Small numbers seen at suitable locations, appears to be on the increase.
Teal Anas crecca Just a pair seen from CIM hide in the first week.
Mallard Anas platyrhynchos Very common at all suitable habitats.
Garganey Anas querquedula Not a duck commonly seen on the island, but 3 males and a female were present on the Albufera for the duration of the trip. 1 male also present at the Depuradora in the second week.
Shoveler Anas clypeata Fewer numbers than previously; mostly confined to Albufera and the Depuradora.
Marbled Duck Marmaronetta angustirostris 3 birds at the Depuradora early in the first week, reducing to 1 by our last visit.
Red-crested Pochard Netta rufina In all my visits to Mallorca I have never seen as many of these birds as I did this time.
Pochard Aythya farina 1 male & 2 females on the Gran Canal, plus possibly the same male on the Depuradora.
Tufted Duck Aythya fuligula A pair on the Gran Canal at the beginning of the first week.
Honey Buzzard Pernis apivorus A passage of 6 birds seen in the Boquer Valley at the end of the first week.
Black Vulture Aegyplus monachus Only 2 fly-by birds seen at Cuber Reservoir. "But what fly-bys."
Marsh Harrier Circus aeruginosus Not as many as are seen during the Autumn; I assume most of the females are sitting on eggs. Good views of several males at the Albufera.
Booted Eagle Hieraaetus pennatus Common at suitable locations.
Osprey Pandion haliaetus Single birds seen at both the Albufera and Albufereta.
Kestrel Falco tinnunculus Less common than I remember.
Eleonora's Falcon Falco eleonorae Birds had just started to arrive during our first week. Both the Boquer Valley and Mortitx gave good, if distant, scoped views.
Peregrine Falco peregrinus 1 bird seen hunting in the Boquer during the first week.
Grey Partridge Alectoris rufa 2 birds flew alongside the car by the villa.
Pheasant Phasianus colchicus A single cock bird at the Albufereta although many were heard.
Moorhen Gallinula chloropus Birds Common at all suitable locations.
Purple Gallinule Porphyrio porphyrio Very Few birds seen this trip. Most are nesting deep in the reeds.
Coot Fulica atra Birds abundant at all suitable locations.
Red-knobbed Coot Fulica cristata Feral population now established in Albufera.
Oystercatcher Haematopus ostralegus A singleton seen at Son Serra de Marina.
Black-winged Stilt Himantopus himantopus Common at all suitable sites with many breeding pairs at Albufera & Albufereta.
Stone Curlew Burhinus oedicnemus 3 resident birds at Villa Les Oliveras. Birds also seen at Depuradora.
Little Ringed Plover Charadrius dubius Small numbers seen at suitable locations.
Ringed Plover Charadrius hiaticula 2 birds at Bishops (1) hide first week.
Kentish Plover Charadrius alexandrinus Common at the S'Illot, Depuradora and Albufera, Bishops (1).
Golden Plover Pluvialis apricaria Only sighting was a bird outside CIM hide on our first visit.
Curlew Sandpiper Calidris ferruginea Odd birds at the Albufera & Depuradora.
Ruff Philomachus pugnax All birds encountered were at the Depuradora with 10 at beginning of the second week.
Snipe Gallinago gallinago A single skulking bird at Bishops (1).
Spotted Redshank Tringa erythropus Highest count was 3 birds seen at Bishops (1) hide at the Albufera.
Redshank Tringa totanus Not as many as seen previously.
Greenshank Tringa nebularia Just odd birds at the Albufera, Albufereta and the Depuradora.
Wood Sandpiper Tringa glareola Highest count was 7 at the Depuradora dwindling to 1 during the second week.
Common Sandpiper Actitis hypoleucos By far the commonest small wader encountered during the trip.
Black-headed Gull Larus ridibundus 2 birds only at the Depuradora.
Audouin's Gull Larus audouinii A common bird around Pollensa Bay with bird numbers increasing year on year.
Yellow-legged Gull Larus cachinnans Birds common all round the coast.
Common Tern Sterna hirundo 3 birds at Bishops (1) with possible breeding occurring.
White-winged Black Tern Chlidonias leucopterus A singleton seen at Albufera, second week.
Whiskered Tern Chlidonias hybridus Singleton seen at the Depuradora.
Rock Dove Columba livia Small flock of up to a dozen birds seen in the Boquer Valley where they breed.
Wood Pigeon Columba palumbus Common at all suitable locations.
Collared Dove Streptopelia decaocto A species with numbers increasing year on year, with birds seen in good numbers daily.
Common Swift Apus apus Immense numbers of Swifts moved through the island during the second week.
European Bee-eater Merops apiaster Birds in flocks up to 40 were seen most days usually in late afternoon. Consensus of opinion is that the majority were passing through the island as Mallorca only holds a comparatively small breeding population.
Wryneck Jynx torquilla A bird was heard calling near the villa most days. The only bird seen was a singleton at the bottom of the Bocquer.
Hoopoe Upupa epops Birds less obvious this trip, possibly due to breeding.
Thekla Lark Galerida theklae A pair of birds were seen at Son Serra de Marina.
Sand Martin Riparia riparia Although an early migrant in the UK, small flocks were seen with swallows during the last 2 days.
Crag Martin Ptyonoprogne rupestris Birds seen at both Cuber Reservoir and the Boquer Valley.
Swallow Hirundo rustica Hugh numbers of passage birds were observed, especially during the second week.
House Martin Delichon urbica Birds seemed to come through in pulses with several days between each pulse.
Red-throated Pipit Anthus cervinus The status of this bird for the region is "rare migrant" so a report has been submitted to G.O.B. A bird in full breeding plumage landed on the gravel bar in front of Bishops (1) giving good, although brief views before it flew off.
Yellow Wagtail Motacilla flava Smaller numbers were encountered at suitable locations, with most being of the blue-headed variety. Life really is too short to start differentiating between sub-species.
White Wagtail Motacilla alba Only a singleton recorded at the Albufereta.
Wren Troglodytes troglodytes 1 bird seen at Cuber Reservoir. Several others heard.
Nightingale Luscinia calliope The island seemed to be full of these birds, we even had one blasting out its song all hours of the day & night from a bush outside our bedroom window.
Redstart Phoenicurus ochrurus Small numbers especially at the Boquer Valley and Son Marc.
Whinchat Saxicola rubetra Small numbers encountered, especially males, with several in the Son Marc Valley during first visit.
Stonechat Saxicola torquata Nowhere near as common as they used to be. The Albufera and Albufereta seemed to hold the biggest populations.
Northern Wheatear Oenanthe oenanthe Odd birds seen at the Albufera & Albufereta.
Blue Rock Thrush Monticola solitarius Only 2 males seen, 1 at its usual haunts in the Boquer Valley and a second male at Mortitx.
Blackbird Turdus merula Birds common at all suitable sites. Good numbers of resident breeding birds.
Cetti's Warbler Cettia cetti Very common with what must be hundreds at the Albufera.
Fan-tailed Warbler Cisticola juncidis Another bird that appears to be declining. Again another bird of scrubby areas.
Moustached Warbler Acrocephalus melanopogon Harder to detect than in the autumn, 1 bird finally obliged at the mound corner on the Albufera.
Great Reed Warbler Acrocephalus arundinaceus Again I seem to remember previously these birds shouting from the reeds all the way down the access road. The first bird encountered this year was well into the reserve. Several were also heard between the S'Illot and the Depuradora.
Balearic Warbler Sylvia balearica Birds showing well on territory in the Boquer valley.
Spectacled Warbler Sylvia conspicillata Excellent views of a single bird in the Almond trees at the base of the Boquer.
Sardinian Warbler Sylvia melanocephala The commonest of all the warblers with birds seen at all suitable sites.
Blackcap Sylvia atricapilla Less sightings than I remember from previous spring visits, but odd birds at suitable locations.
Wood Warbler Phylloscopus sibilatrix Small numbers of passage birds seen in the trees at the base of the Boquer.
Chiffchaff Phylloscopus collybita Good numbers, especially during the second week. I assume most are on passage.
Willow Warbler Phylloscopus trochilus Similar status as Chiffchaff with birds in fresh plumage. I suspect some have been misidentified for other Phylloscopus species.
Firecrest Regulus ignicapillus Only bird seen was a singleton in the pines in the Son Marc Valley.
Spotted Flycatcher Muscicapa striata The island seemed full of these birds, with Son Marc having birds in almost every field.
Pied Flycatcher Ficedula hypoleuca Although most of the passage was over, small numbers could still be found on the island.
Blue Tit Parus caeruleus Odd birds seen throughout the trip.
Great Tit Parus major Slightly more numerous than Blue Tit. A pair regularly seen in the villa grounds.
Golden Oriole Oriolus oriolus Only bird seen was a male in a Eucalyptus tree in the villa grounds, well spotted by David during drinks on the terrace.
Woodchat Shrike Lanius senator Good numbers of birds, especially in the small olive and citrus groves.
Raven Corvus corax Only birds seen were a pair in the Boquer and a single bird at Cuber.
House Sparrow Passer domesticus Birds common everywhere.
Chaffinch Fringilla coelebs Common at all suitable habitats.
Serin Serinus serinus Small numbers at several sites. Son Marc seemed to hold fair numbers.
Greenfinch Carduelis chloris Common at all suitable habitats.
Goldfinch Carduelis carduelis The commonest of all the finches with birds on territory everywhere.
Linnet Carduelis cannabina Few and far between.
Cirl Bunting Emberiza cirlus Seem to be on the increase with birds at the Boquer and San Marc.
Corn Bunting Miliaria calandra Of all the birds that seem to be in decline this bird appears to be the most affected. 10 years ago every overhead cable seemed to have a Corn Bunting.
MOANS, GROANS AND MEMORABLE MOMENTS
Moan The island was again infested with those Lycra clad pillocks who are intent in riding their bikes at least 3 abreast irrespective of either road size or conditions.
Groan It would appear that the island has been discovered by the long lens brigade. A couple of these plonkers are happy to fill a hide that would comfortably hold 8-10 birders. (One for the long lens brigade, with feeling.)
Groan Having to seek medical attention for a knackered back that incapacitated me for over half of the holiday.
Memorable Moments Having the pleasure of David & Amanda Mason's company for a few days for their first trip to Mallorca. Welcoming "Sweaty" Frances Gatens for our second week.
Memorable Moments Realising we were sharing the villa grounds with 3 Stone Curlews, "Pedro", "Pepe" and "Pandora", who insisted calling through most of the hours of darkness. Plus a garden list that also comprised, Sardinian Warbler, Redstart, Woodchat Shrike, Nightingale, Golden Oriole, Cattle Egret, Blackcap, Serin and European Bee-eater.
Memorable Moments Having recently spent nearly three weeks in Namibia, seeing various Glossy Starling species on a daily basis, I was absolutely amazed to be confronted by a Glossy Starling feeding with Blackbird and Chaffinch at the side of the road in the Son Marc Valley.
Pat and Judy Hayes