INTRODUCTION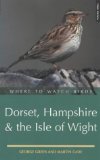 Despite the 6 day weather forecast being less than encouraging, we picked up our camper from our daughter's the night before and left home the following morning at 06.00hrs. This gave us a fairly clear M5 and with no stops, we were tucking into our "early starter" Little Chef breakfast just outside Dorchester by 09.15hrs and were parked at Radipole RSPB reserve by 10.40hrs.
DIARY
Day 1 - Thursday 6th May
It was our primary intention to try to obtain a decent photo of a Bearded Tit for our bird library so my first port of call was the visitor centre to obtain info on "Beardy" territories in order to maximise success levels. The Warden and his volunteers were deep in discussion about the possibility of one of the 2 Terns perched outside the centre being a "Roseate". Seeing an opportunity for an unexpected addition to our bird library I hurried back to the camper for my optical gear. Close inspection through the scope suggested to me that both birds were "Commons". I returned to the huddle and enquired why they thought one of the birds could be a "Roseate"; "the bird looked slightly larger and the bill looked darker and a bit longer" was the reply, "but I'm beginning to think it's probably a "Common". At that point a Black-headed Gull decided it required the tern perch, displacing both birds which flew south over the car park, terminating the speculation.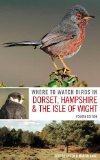 In reply to my original question regarding Beardy territories I was told that numbers at Radipole had crashed and that Lodmore held far more birds. The day was dull, threatening rain and the light was poor so any attempt at photography was abandoned and we headed into the reserve armed with "bins" & "scope". With the exception of Sedge, Reed and Cetti's Warblers scolding throughout the reserve and a profusion of Swifts, Swallows, House & Sand Martins hawking over the open water, there was a distinct lack of other migrants.
Birds at Radipole - Common Tern, Black-headed Gull, Lesser Black-backed Gull, Herring Gull, Cormorant, Grey Heron, Mute Swan, Mallard, Tufted Duck, Teal, Gadwall, Shellduck, Coot, Moorhen, Collared Dove, Wood Pigeon, Swallow, Swift, House Martin, Sand Martin, Cetti's Warbler, Reed Warbler, Sedge Warbler, Whitethroat, Greenfinch, Goldfinch, Chaffinch, Linnet, Great Tit, Starling & House Sparrow.
With birding interest on the wane and our £3.50 parking fee running out we left Radipole and headed for RSPB Lodmore.Lodmore is just a couple of minutes from Radipole by car and we were soon confronted with another pay & display car-park; the only difference was that the entrance to this one had its width restricted to 6ft - far too narrow for the camper and with all the access roads sporting yellow "no parking" marking we decided to give Lodmore a miss and continued on to RSPB Arne.
Grey skies and broody scudding clouds greeted our arrival. Undaunted we donned waterproofs and made our way to the reception area where we were greeted by a couple of very obliging wardens and a very welcoming log-burning stove. The target bird here was Dartford Warbler; again a good photo was required for the bird library, although the light was definitely not conducive to any sort of photography. Indeed, as it turned out, neither was the bird. After having the reserve plan marked showing several territories, we set out to do the short heathland walk described as "Coombe Heath" in the trail guide. This contained at least 5 known territories and gave us a fighting chance of at least an encounter, if not a photo opportunity. Several birds were seen during the walk with some very good scoped views, most of the nearer encounters were with birds appearing and then disappearing in and out of Gorse bushes. With light rain threatening we made our way back to our camp site which was situated a couple of miles outside Bridport.
Birds at Arne (visit 1) - Black-tailed Godwit, Ruff, Redshank, Whimbrel, Curlew, Spoonbill, Black-headed Gull, Cormorant, Mute Swan, Canada Goose, Shellduck, Little Egret, Great Spotted Woodpecker, Nuthatch, Woodlark, Jay, Magpie, Mistle Thrush, Song Thrush, Dartford Warbler, Wren, Stonechat, Northern Wheatear, Linnet, Blackbird, Blue Tit, Great Tit, Long-tailed Tit, Chaffinch, Bullfinch, Greenfinch, Dunnock, Starling & Swallow.
Our preferred watering hole was Bingham Grange Touring & Camping Park. Bingham Grange is situated a couple of miles north of Bridport. The site was adults only and was run in a relaxed manner. All the facilities were situated in one amenity building and were first-class, with the shower/toilet block being awarded "Best in the South West" for the past four years. The park also boasts a bar/restaurant which serves very good, value-for-money, meals between 18.00hrs and 21.00hrs every night except Tuesday and Wednesday. An excellent Sunday lunch is also served; this has to be booked in advance. A take-away menu also exists for those who prefer to take their meals in less formal surroundings. The pitch we chose was a "super pitch" which had all the amenities on it: i.e. electric hook-up, water supply and grey water drainage. Total cost for the 4 days was £94:00 inc vat.
Day 2 - Friday 7th May
Today again dawned grey, windy and cold; not the sort of weather we anticipated for early May. We decided to head for Portland Bill hoping for the odd migrant around the observatory. Our first port of call was the old quarry adjacent to the observatory where several birders were studying a specific patch of brambles: movement soon revealed a Garden Warbler closely followed by a Lesser Whitethroat .
Birds at Portland Bill - Rock Pipit, Northern Wheatear, Whitethroat, Garden Warbler, Lesser Whitethroat, Linnet, Greenfinch, Wren, Song Thrush, Blackbird, Jackdaw, Magpie, Swallow, Dunnock, Greenfinch, Collared Dove & Wood Pigeon.
With birding being on the slow side we decided to return to Lodmore: on our previous visit we had noted a vehicle parked on the side of the road leading to the recycle centre. It was our intention to park there if it was vacant. We arrived at Lodmore and by luck the parking pitch was available although it was bordered by a bright yellow line. We decided to take a chance.
Lodmore consists of several areas of open water interspersed with large areas of reedbed, salt marsh and scrub. Armed with the marked site plan we headed for the viewing shelter and the first Bearded Tit territory marked on the plan. In fact it wasn't until we had reached the path that dissects the east of the reserve, "Beachdown Way", that we located our first Bearded Tit and then several birds gave great scoped views along this path.
Birds at Lodmore - Grey Heron, Little Egret, Cormorant, Mallard, Tufted Duck, Pochard, Shoveler, Teal, Shellduck, Mute Swan, Redshank, Little Ringed Plover, Black-headed Gull, Herring Gull, Great Black-backed Gull, Coot, Moorhen, Swift, Swallow, Bearded Tit, Cetti's Warbler, Sedge Warbler, Reed Warbler, Chiffchaff, Willow Warbler, Reed Bunting, Robin, Dunnock, Long-tailed Tit, Great Tit, Blue Tit, Starling, House Sparrow, Carrion Crow, Jackdaw & Rook.
Day 3 - Saturday 8th May
Dawn was similar to the previous days, with the wind blowing noticeably stronger. We decided to visit the Poole Harbour area including Studland. Our first port of call was the National Trust Nature Reserve at Studland. Parking on the car-park adjacent to the Study Centre, we walked through the wet woodland to the Woodland Hide which overlooks the body of water known as "Little Sea". With the exception of a couple of distant Black-necked Grebes there was little avian interest on the water to retain us more than a hour. It was our intention to visit the Grebe Hide on the same water, but we were informed by the staff of the Study Centre that the hide was closed due to a collapsed floor. With light showers the order of the day we cut our visit short and decided to return to Arne.
Birds at Studland & Little Sea - Mute Swan (nesting), Great Crested Grebe, Little Grebe, Black-necked Grebe, Pochard, Tufted Duck, Mallard, Coot, Moorhen, Swallow, Blackbird, Robin, Chaffinch, Green Woodpecker & Collared Dove.
By the time we reached Arne the weather had brightened enough for us to decide to tackle the "long walk"; this enabled us to sample all the various habitats Arne had to offer - heath, estuary, salt marsh, woodland and farmland - but excluding the heathland walk we had done during the previous visit.
Birds at Arne - Great Spotted Woodpecker, Green Woodpecker, Nuthatch, Chaffinch, Bullfinch, Greenfinch, Great Tit, Coal Tit, Blue Tit, Song Thrush, Mistle Thrush, Blackbird, Starling, House Sparrow, Woodlark, Dartford Warbler, Linnet, Willow Warbler, Chiffchaff, Blackcap, Jay, Magpie, Carrion Crow, Grey Heron Black-tailed Godwit, Redshank, Common Sandpiper, Green Sandpiper, Dunlin, Ringed Plover, Whimbrel, Curlew, Little Egret, Greylag, Canada Goose, Brent Goose, Mute Swan, Black-headed Gull, Lesser Black-backed Gull & Herring Gull.
Day 4 - Sunday 9th May
With an unpromising weather forecast and lunch booked for 13.00hrs we decided to spend our last full day doing the local patch. This comprised a walk along the adjacent river for about 1 mile. The highlight of the walk was a Green Woodpecker which obligingly landed on a fence post 25mtrs in front of us, Grey Wagtail and a singing Chiffchaff; anyway the Sunday roast was delicious.
MOANS, GROANS AND MEMORABLE MOMENTS
Groan
The extremely unseasonable weather.
Moan
The distinct lack of migrants and, to be honest, just 1 of those unforgettable avian moments that most trips seem to serve up.

SUMMARY
We derive great pleasure from all the garden birds tempted to our feeders, as well as the many birds that choose to nest in and around our cottage, so we feel slightly guilty for feeling just a tad disappointed at birding in a cold, wet, British spring.
Pat and Judy Hayes